Sometimes, photos and videos are not enough to spur the fashion-savvy, who are always on the lookout for new fashion inspirations and this is where fashion movies come in.  However, there is more to movies than just fancy outfits, designer clothes and chic wardrobes. There are fashion tips, amazing information, heartwarming stories and comedy acts that will not only inspire your sense of personal style, but also entertain you and stir your emotions.
From the runway to the school campus, here are five amazing fashion movies that will leave you breathless from head to toe:
The Devil Wears Prada
A list of fashion movies always starts with The Devil Wears Prada. Released in 2006, it is a film based on a 2003 novel written by Lauren Weisberger.
The Plot
Directed by David Frankel, the movie is set in New York, the fashion capital of America and focused on a renowned fashion magazine company and its association with the fashion industry. It is a story of an aspiring journalist Andrea Sachs played by Anne Hathaway, who landed a job as a co-assistant to an aloof magazine editor Miranda Presley, played by Meryl Streep, a role that was reportedly inspired by Anna Wintour, the editor of Vogue magazine.
Andrea or Andy has no sense of fashion, but must unwillingly work and talk about fashion while going through the humiliation and cold treatment of Miranda Presley. With the support of the magazine's art director, Andy steadily learned to adapt to the high fashion environment to show commitment to her job. Her unparalleled dedication as an assistant came to such an extent that infusing fashion into her lifestyle took her to the politics and tension in the fashion industry. Ultimately though, she was able to prove herself and stood up for what she believed in.
Fashion Credits
The movie is undoubtedly one of the best fashion movies of all time as it displays amazing fashion designs from the world's notable designers. In fact, it is known to be one of the most expensively costumed films in history. The movie keeps every fashion lovers on the edge of their seats with different outfit changes, towering heels, colorful coats, fancy dresses and designer clothes that only exist in the industry of illustrious fashion and renowned individuals.
Awards
The Devil Wears Prada became a summer box-office hit during the debut of the movie and it earned Meryl Streep her 14th Oscar for Best Actress. It was nominated for Best Picture and Emily Blunt was considered for the Best Supporting Actress award during the Golden Globe Awards on 2006.
Clueless
Based on the novel Emma, written by Jane Austen in 1815, Clueless was made into a successful movie in 1995 with Alicia Silverstone playing a rich socialite in Beverly Hills High, whose only direction in life is towards the mall. An American comedy teen film directed by Amy Heckerling, it leaves the audience overwhelmed with its stylish outfits and the luxuries of being a spoiled wealthy teenager.
The Plot
Clueless follows the adventure of Cher Horowitz, who is fond of giving fashion tips and makeovers as well as match-making her friends and even her teachers. Though highly superficial, Cher is smart and passionate and along the way, she learns from her failures and realizes she is romantically interested with her ex-stepbrother, who always teases her for being vain and selfish.
Fashion Credits
Complete with mini backpacks, fluffy pens, knee-high socks, plaids, weird hats and a wardrobe full of colorful dresses, Clueless is a must-watch for every fashion-savvy individual in every generation. The fashion choices of Cher are classic and her drive for stylish clothes makes everyone wish they are her.
Although Cher didn't get everything she wanted, she had Calvin Klein, Fred Segal and Azzadine Alaia pieces in her closet and she made these designers twice as rich during the debut of the movie along with other fashion brands.
Awards
Because of Cher Horowitz, Alicia Silverstone won the American Comedy Award for Funniest Actress in a Motion Picture and Blockbuster Entertainment Award's Favorite Female Newcomer in 1996. MTV Movie Awards also gave her the Best Female Performance and Most Desirable Female awards in the same year.
The movie also won the National Society of Film Critics Award for Best Screenplay in 1996 and second place in the New York Film Critics Circle Awards in 1995.
 Sex and the City
Sex and the City is a movie based on the book written by Candace Bushnell and was turned into a comedy series by HBO before it hit the big screen in 2008. Because of its success, a followup movie was released after two years and the third installment is rumored to be on the works.
The Plot
This commercial success of a movie is set on the streets of New York and focused on romance and sexuality among a group of girl friends.
Kim Cattrall played Samantha Jones, the blond friend who moved to Los Angeles and got into an un-reciprocated relationship with a TV star named Smith.
Kristin Davis portrayed Charlotte York Goldenblatt, who adopted a Chinese girl after having problems with conception, but ultimately got pregnant.
Cynthia Nixon took on the role of Miranda Hobbes, who is based in Brooklyn and dealing marital issues after she found out that her husband was cheating on her. After Miranda decided to break it off with her spouse, her husband Steve tried to fix things, but her uncompromising refusal made it hard for him. Along the way, Miranda and Steve went through couple's counseling, which eventually led to their reconciliation.
Sarah Jessica Parker was Carrie Bradshaw, the main character of the story, a style expert journalist, who had a steady relationship with Big, played by Chris North. The two were planning to get married, but Big was too scared to go through with the wedding ceremony due to Miranda's woeful advice about marriage during the final rehearsal, which prompted the broken-hearted Carrie to flee from her wedding.
As Carrie tried to move on, the relationships among the four friends were tested. However, she found her way back to Big, who was sincerely apologetic about what happened. Both got the happy ending they deserved after their private wedding and the friends were seen making a toast during Samantha's fiftieth birthday at the end of the movie.
Fashion Credits
A life story of four stylish friends turned this romantic-comedy movie into a fashion show with elegant and stylish ensembles. Carrie Bradshaw made bold fashion statements in the movie that made her one of the top fashion icons in the entertainment industry.
Wedding gowns from designers Lacroix, Dior, Vera Wang and Vivienne Westwood were featured in the movie. Creations from Zac Posen and Dolce and Gabbana were paired with bags and accessories from YSL, Chanel and Alexander McQueen's sunglasses in this movie. And, of course, there were the proposal shoes from Manolo Blahnik that represents the reconciliation and lifelong commitment between Big and Carrie. This added another moment that made Sex and the City one of the top fashion movies in the world.
Awards
The film became the highest grossing romantic comedy of 2008 and though some found the movie shallow and vulgar, it became the fastest selling DVD in UK after its release in 2008.
It was nominated for various film category awards including Best Movie in 2008 at the MTV Movie Awards, Chick Flick Choice Movie in 2008 Teen Choice Awards, Favorite Cast for 2008 in People's Choice Award and Best Comedy in the 2008 National Movie Awards.
Breakfast at Tiffany's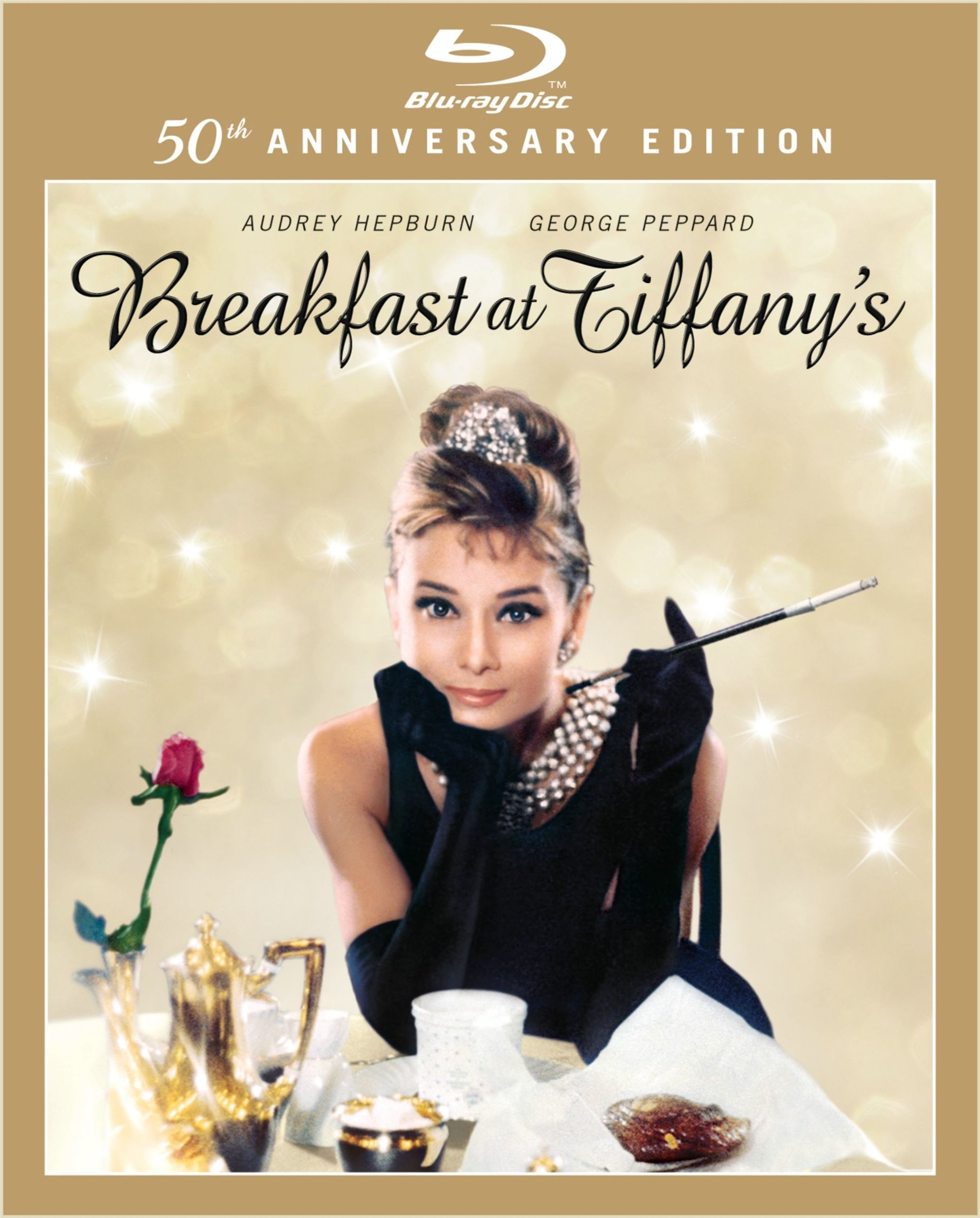 Breakfast at Tiffany's is another romantic comedy film that makes it to the list because of the strong fashion statement shown in the movie, which stayed on to become one of fashion's greatest inspirations throughout the years.
Released in 1961, this film made lead actress, Audrey Hepburn, one of the highest paid celebrities during the sixties.
The Plot
Audrey Hepburn played the role of Holly Golightly, a child bride from Texas who became a Manhattan socialite living in New York. She was romantically involved to Paul Varjak, played by George Peppard, the tenant who lived next door to her apartment. But, Holly wanted to marry Rustry Trawler, a rich American, for his wealth. She later found out that Trawler married someone else, so she schemed to marry Jose da Silva Pereira instead, a rich Brazilian.
Before she left for Brazil to be with Jose, Holly was arrested for innocently carrying contraband news to Sally Tomato, a mobster in prison, whom she was paid to visit every week to carry the weather report. Jose abandoned her after the incident, which ultimately led her back to Paul.
Fashion Credits
The Little Black Dress or LBD rose to fame because of this film. Her quintessential body con dress made by Hubert de Givenchy is known to be the most famous LBD of all time and her over-sized cigar along with her high chignon hair style became one is the most iconic fashion images in the fashion industry. Besides her LBD, Holly's coat and purse were highly replicated during the sixties.
Holly became an epitome of exquisite and style with her big black hat, her luxurious earrings and statement necklace, and her Burberry trench coat, which appeared twice in the movie. Even in her peach robe and her eye mask, Holly's demeanor always spoke of elegance.
Awards
The film itself is iconic and is on the list as one of the greatest movies of all time as according to a 2008 issue of Empire magazine. In 2012, the movie was selected for preservation in the National Film Registry for its historical and cultural importance.
Breakfast at Tiffany's earned two Academy Awards for Best Original Score and Best Original Song, Moon River. Audrey Hepburn, herself, bagged the Best Actress Award during the 1961 Golden Globe Awards and the film was also named the Best Picture for the Musical and Comedy category during the same awards in the same year.
Confessions of a Shopaholic
"If everyone could just wear new clothes every day, I reckon depression wouldn't exist anymore."
That line alone might be enough to validate the position of the movie in this list. Confessions of a Shopaholic is a 2009 romantic comedy film based on the Shopaholic series of novels by Sophie Kinsella.
The Plot
The film is set in the city of New York and revolves around a fashion writer, Rebecca Bloomwood, who can't get enough of her obsession over clothes. Bloomwood, played by Isla Fisher, dreamed of working in a fashion magazine called Alette. But, she ended up as a columnist for Successful Savings, a financial magazine published by the same company that publishes Alette. As she worked her way to her dream career, she struggled over her financial crisis and her obsession for shopping, while at the same time giving advice about savings and money-handling in the magazine she worked with. She rose to fame as a financial adviser because of her article "The Girl in the Green Scarf" in the magazine.
Eventually, Rebecca gave up her collection of clothes through an auction to pay off her debts after a public confrontation took place. Her shopping addiction and how she fell into huge debts over her fashion fixation came to light and was taken against her and her persona as a financial adviser. She made ends meet to pay off her debts and soon worked for the person, she made a romantic connection with during her struggles.
Fashion Credits
Although the movie received negative reviews over issues on materialism and consumerism, it is one of the best movies for fashion enthusiasts who can't get enough of Rebecca's stunning clothes and gorgeous outfits. Beyond the matters of commercialism and overspending until you go bankrupt, the movie is actually more of a parade of beautiful belts, colorful dresses, fur coats, heels and boots, and designer frocks.
Awards
The movie won the Top Box Office Films during the ASCAP Awards in 2009. Isla Fisher was nominated for Choice Movie Actress, Comedy at the 2009 Teens Choice Awards and the movie was named as one of the nominees for Choice Movie, Romance category by the same award-giving body.
Movies are perfect for putting yourself in the middle of the fashion industry. Through them, you can get inspired with how fashion turns the world into a big runway with their array of flashy wardrobes and designer bags coming from the lens of Hollywood and interspersed with hilarious stunts and heartbreaking scenes.
Top 5 All-Time Fashion Movies to Watch this Summer
by
Holly Bissonnette